Barber Family History (extremely short version)
Samuel Barber, currently the earliest known of our Barber ancestors was born around 1785 in Maryland, orphaned young, and raised by an uncle in Harpers Ferry, Virginia. Demonstrating the family vagabonding tradition, he disappeared as a teenager, showing up near Baton Rouge, Louisiana in 1807 when a plantation manager asks for his arrest for deserting his job and absconding with clothes and property loaned him. He seemed to go straight after this, marrying Elizabeth Barrow in 1813, serving in the war of 1812 during the Battle of New Orleans, fathering five boys and two girls, farming, and raising cattle.
By the late 1820's Louisiana was no doubt too "settled up" for Samuel's taste, or perhaps the vagabonding gene simply struck
again--in any case he joined many of his neighbors and moved the whole outfit to the Mexican state of Coahuila y Tejas to the west, ultimately settling in what would become Liberty County, Texas. A final daughter was born on the way. Each of Samuel's children became, or married, cattle men, and by the late 40's all but two of them moved "out west" to Gonzales and Refugio counties where conditions, and available land, for cattle were more favorable. Just before leaving, John Albert Barber, Samuel's second son, married Elizabeth, the daughter of David Levi Kokernot, a locally unpopular figure accused of excessive enthusiasm in carrying out Sam Houston's orders to arrest Tories (Mexican sympathizers) after the Battle of San Jacinto in the War for Texan Independance in 1836. No Tories were arrested, but much of their liquor was consumed and cattle driven off.
John Albert Barber, like his brothers and sister nearby, helped build the cattle business in those years before the War Between the States--a business which was to explode in the years after the War. Before that, however, they had to endure the Mexican
War and the raiding and killings that followed. The war years 1861-1865 brought deprivation and death, followed by military occupation. John Albert's mother and father both died during the War, at advanced ages, but his own unexpected death in 1869 left children from age 1 to 22, his oldest son Amos taking guardianship of the younger ones.
The second of his sons, Addison Barber, was twenty years old and married with a son when John Albert died. Fortunately for him, both his father and Henderson Williams, his wife Adeline's father, had given the couple gifts of land in nearby Bee county, where they would live out their lives raising cattle and farming and which land is still owned by their descendants.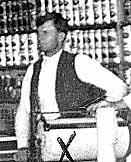 Addison's third son George Levi "Lee" Barber, born in 1874 on the farm in Bee County, evidently decided that the farming and cowpoking life was not for him or was infected like his ancestors with the vagabonding gene. After marrying a local girl, Cora Hatcher, he immediately left for east Texas, where his grandfather grew up, and later settled in Dickens County, near Lubbock, Texas. Lee made his living many ways: buying and selling land, running hardware and grocery stores and restaurants, constructing roads, and sheriffing (Dickens County, two terms). Though he was never either a cowboy or farmer, he always cultivated a small patch and ran a few cows, wherever he was.
So, after five generations in Texas, what could Lee's second son, "Vic", my grandfather, be expected to do when the Barber vagabonding urge struck? Pack up and move the whole outfit, of course--first to northern Idaho, then, in 1947, to Alaska. Vic continued his father's vocation of construction and trucking and continued the Barber vagabonding tradition as well. Indeed, he left no frontier for the rest of us when he led the first convoy of trucks to the Arctic Ocean over winter ice, before any road was built, in an experiment to discover if this would be a practical way to supply construction crews for the Alaska pipeline (it wasn't).